To get started, use the command
/artist
. You'll then be brough up with page with a few different choices. You'll then want to open the painting tutorial to familiarize yourself with the steps you need to take to begin painting.
Before you start to paint, you may want to familiarize yourself with the array of colors you have to work with. There's tons of colors to choose from so you can make your beautiful paintings. To view these colors, you can click the Dyes slot, in the artmap GUI. (Type
/artist
to open the GUI)
Clicking this will bring up a page of items, each one possessing a color of their own. There are multiple pages of colors. To scroll through them there are forward/back arrows provided for you.
Knowing your way around tools is important while making artmaps. To view your available tools go into the artmap GUI and press Tools (Book and Quill). Doing this will open a menu listing multiple tools for you to use. These consist of a Bucket, Coal, Feather, and a Compass. You will get to use these tools once you sit down at the easel to paint.
The paint bucket is used as a filler tool. You can fill mass amounts of a painting by left clicking while holding the paint bucket. You can also undo your last fill by right clicking, bucket still in hand. The default color for the paint bucket is white, but you can easily change this by dragging the bucket and dye of choice into the crafting square of your inventory.
​

​
The coal allows you to change the brightness of pixels, allowing you even more shades of colors that you already have! Typically the amount of times you can darken a color is one or two. Do this by holding the coal and right clicking a color. It will get darker than the original color!
​

​
The feather does the opposite of what the coal's function is. Instead of making a color darker, it will make a color lighter.
​

​
The compass allows you to flip your art vertically/horizontally.
Original:

​

After left clicking:

​
Left click while holding the compass to flip your art horizontally.
Original:

​

After right clicking:

​
Now that you're ready to make some art. Here's what you have to get in order first:
You will not be able to make art unless you have a canvas and easel crafted. These are clearly not normal vanilla Minecraft recipes, so in order to find how to craft them you must run the command
/artist
. After you do so, a GUI will pop up on your screen with the following recipes.
​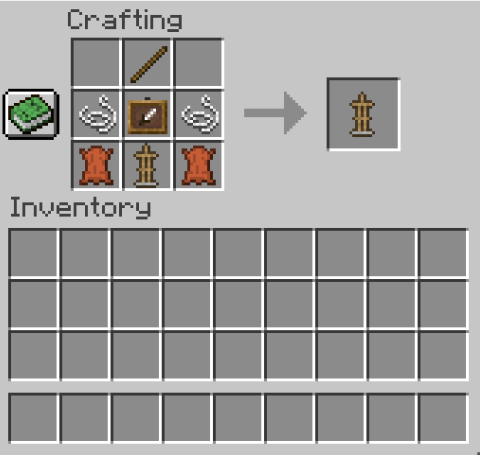 ​
​
Now that you have crafted both your canvas and easel, you're ready to paint!
Simply place the easel down, it should look like this:
​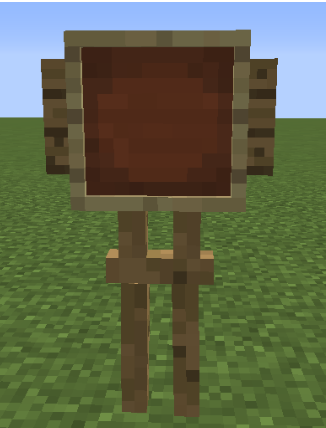 ​
Next take the canvas that you crafted. It should appear in your inventory like this:
​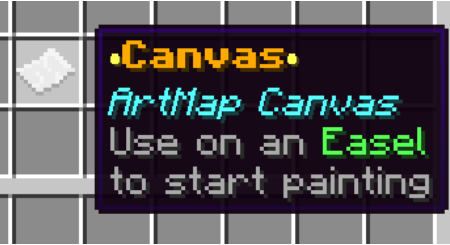 Place down your canvas by holding it in your hand and right clicking the easel with it. It'll jump onto the easel like so:
​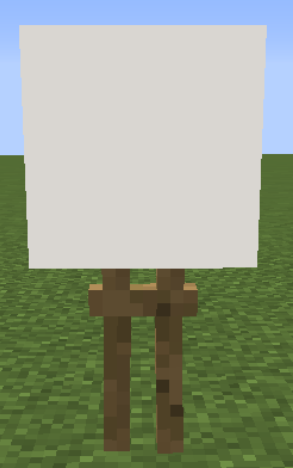 Once you place it down, you're ready to paint! Simply right click the easel and you'll sit down in front of it. Select a color and left/right click while holding the color to paint. Left clicking allows you to only place singular pixels while right clicking and holding down lets you drag and make lines. You can also place singular pixels right clicking once and not holding down your right click button.
If you would like to take a break from painting, you can exit the easel by pressing shift. Your art will save and will remain there on the easel for you to get back to at a later date.
WARNING
: To break an easel you can crouch and right click it, but keep in mind this will destroy any art you have on the easel. It will not save.
Once you're done creating your masterpiece, you'll want to save it. You can do this two ways. One being while sitting at your easel, type
/art save [name]
.
In order to display your arts, you have to place down an item frame, and right click the item frame while holding your art. It'll display your art like a picture!
​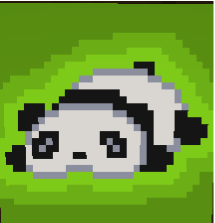 ​
You're able to make copies of your art by using blank maps and putting them into the crafting square along with the original copy of your art. Depending on how many blank maps you put in, that's how many copies of your art that you will receive.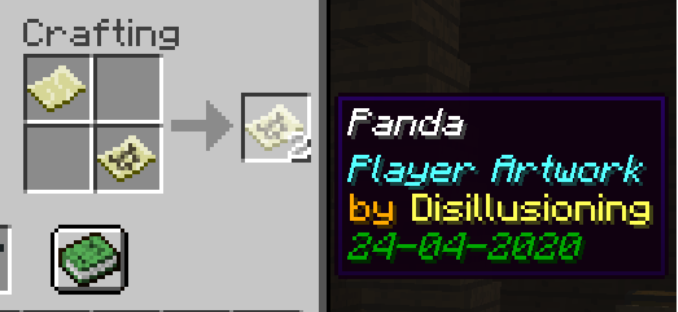 ​
CAUTION
: Be wary of what you have in your inventory while making art. If you pick anything up while sitting at the easel, standing up from the easel will destroy that item and you will not be able to get it back.
You can view other people's arts by doing
/artmap
and clicking on artworks. This will open a menu and bring up player heads. You can click on any of those heads to view the artworks of other players!
(No Custom GUI here sadly!)


​